Bagwell Bailey
1802 - "Bagwell Baley, 135 improved acres, 75 unimproved acres, 5 cattle"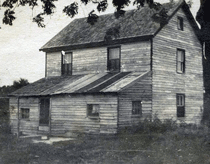 Bagwell, the first Bailey to reside in Baileytown, was born in England by 1774 and came to America with his parents about 1795. Four years later he built a log cabin along Ackley Road, a temporary dwelling while a new home was being constructed. He and his wife Nancy moved into this new home around 1801.


Bagwell was a farmer and owned a great deal of land. Most of it was purchased between 1809 and 1815. When Bagwell died, he left his home to his son James. About 1880 James' son, Hiram, purchased the old homestead from his father. Hiram made some changes and improvements to the house and lived there for many years.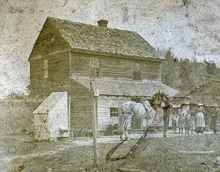 In his book The Baileys of Baileytown, Norman Bailey writes about this home: "Several years ago (in 1941) the very original homestead that Bagwell built was still standing and inhabited. It had been added to and changed some, but it was the very same house. Since the U.S. Air Corps took over all of that land, it is not known if the home is still standing."

Bagwell's wife Nancy died in 1839. The next year he married Jane, widow of Enos Lore. Bagwell died at his home in Baileytown in 1848. His wife Jane died a few years later. Where Bagwell and his two wives are buried is unknown. Later generations were interred in Haleyville, others at Dividing Creek. Norman Bailey writes of two or three sunken unmarked graves near Bagwell's home, but he also states that Jefferson Lore of Dividing Creek dug Bagwell's grave, making it seem likely that he is buried in that town.