The Schoolhouse
The Baileytown schoolhouse was built around 1870 and stood in an oak grove near the crossroads. It served as both a school and a community church. Seth Bailey was the school Director. He lived across the street from Enos Bailey's home, which is where the schoolteacher boarded.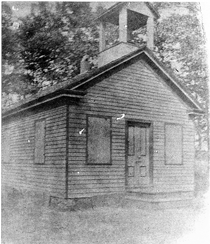 Since Baileytown did not have a church, "Preacher Ned" Bailey decided to take his family bible down to the empty schoolhouse on Sundays. As the word spread, people started drifting in to hear his sermons. On fine spring mornings the little dwelling with its bell would be full of Baileys. Revival meetings were also held with visiting Methodist preachers such as Rev. Charles Haley, Rev. Henry Compton, Rev. James Garrison, and Rev. Shropshire.

At some point the schoolhouse was moved to Mauricetown and therefore survived the U.S. Government's takeover and subsequent destruction of Baileytown. We wish we could say that it is now in the hands of a historical society or some private owner who has lovingly cared for it, but sadly it was placed behind a barn and forgotten. It collapsed a few of years ago.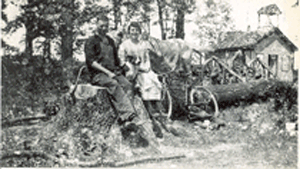 Elwood and Retta Bailey in front of schoolhouse September, 1919
This souvenir from the 1905-1906 school year identifies the teacher as Boyd. L. Sloan and lists students by name.