Colonial Log Cabin
This Philadelphia Inquirer article offers a glimpse into the discovery of a Colonial-era log cabin in Baileytown. The author states that the cabin was to be restored. Another source said it was being moved to Swedesboro, New Jersey. Unfortunately we have been unable to confirm any of this.
"Ancient Log Cabin Comes to Light in Jersey"
The Philadelphia Inquirer, October 10, 1948
Found in my aunt's keepsakes, these four photos were taken by The Philadelphia Inquirer.
Charles S. Hartman, Map #6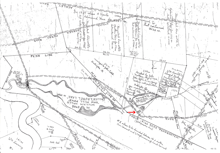 This is an inset from Map #6 by Charles S. Hartman, who did historical research at the Bridgeton courthouse between 1920 and 1978. The information contained on his maps is from "ancient survey maps made by old surveyors."
The small upside-down building shown at the bend of "Mill Road to Buckshutem" near Mathew's Grist Mill is in the same location as the remains of this cabin.