World War II
Immediately south of the Millville Airport and extending almost to Dividing Creek, the United States Government acquired 18,000 acres, covering 20 square miles, for use as an aerial target area. Every property owner in this region was required to sell his property to the War Department or risk having it taken through condemnation.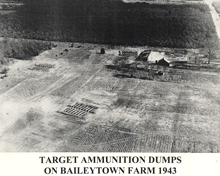 Baileytown, being located just south of the airport, was the ideal location for a planned gunnery range. The construction of targets began in late 1942 immediately after the last family had moved out.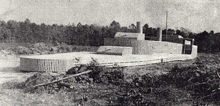 Wooden replicas of military targets such as ships, trains, convoys, airplanes, and ammo dumps were placed in what were once productive farm fields. Beloved homesteads, now abandoned, became "targets of opportunity." By the end of World War II, Baileytown was in ruins.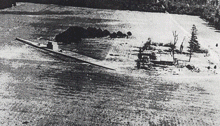 This submarine target, located on one of the many abandoned farms, was used by P-47 pilots for gunnery practice. Photo is from a Philadelphia Record article dated April 10, 1944.